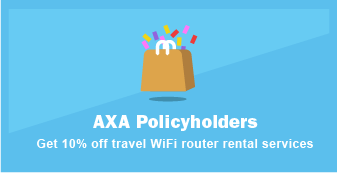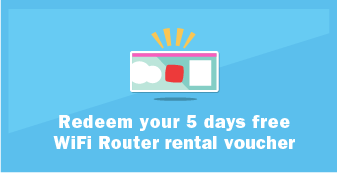 AXA 5 Days Free Rental
Upon entering the voucher code on the Redemption Voucher issued by AXA on www.y5buddy.sg/axa , you are entitled to five (5) days of free rental to any countries listed. Courier service is also included in the redemption if you required one. You are required to pay for any extra rental charges if rental period exceeds five (5) days. A refundable deposit of SGD 50 per device is applicable to every rental booking. You may transfer the Redemption Voucher to other person. The authorised person is required to make the rental booking under his/her own name.
On steps to redeem this, click here: http://www.y5buddy.sg/steps-to-redeem/
AXA 10% Off Promotion
A 10% AXA Promotion Discount is given to AXA Policyholders on Daily Rental Fee when promotion code is applied upon making rental reservation.
On steps to redeem this, click here: http://y5buddy.sg/steps-to-redeem/
Frequently Asked Questions (FAQ)
For a comprehensive list of FAQs, please visit http://y5buddy.sg/faq/
Terms and Conditions
AXA Insurance Singapore Pte Ltd and AXA Life Insurance Singapore Private Limited (collectively, "AXA")
Y5buddy is the service provider AXA has partnered with to provide pocket wifi router services ("Services") to all existing AXA policy holders ("Customer").
All Customers will be eligible for 10% discount in relation the Services, this discount is valid till 30 September 2017.
In addition, each NEW purchase of AXA SmartTraveller annual travel policy will entitle the Customer to a y5buddy rental voucher ("Rental Voucher").
Valid for purchases of AXA SmartTraveller annual travel policy:
(a)   between 7 July 2016 to 30 September 2016 from eligible agents and walk-in purchases at AXA Customer Service Center; and
(b)  between 1 August 2016 to 30 September 2016 from www.axa.com.sg.
Eligible purchases will receive their Rental Voucher via email for redemption.
The Rental Voucher provides for a complimentary five (5) day rental of y5buddy's wifi router and is valid for one time use only.
The validity period of the Rental Voucher is 12 months from the date of purchase of AXA SmartTraveller annual travel policy.
AXA will not accept any liability or responsibility for any matters relating to the Services provided by y5buddy. To the maximum extent permitted by law, AXA does not accept any responsibility or liability whatsoever for any damage, loss, death or personal injury arising from or in connection with the use or enjoyment of the Services.
Any disputes with regard to the Services provided by y5buddy shall be resolved between the Customer and y5buddy.
Please note that all discounts will only be computed on the checkout page.
To avoid losing discount related data, please ensure that you complete the booking processes, once you have chosen your discount option.
This message is confidential; its contents do not constitute a commitment by AXA except where provided for in a written agreement between you and AXA. Any unauthorized disclosure, use or dissemination, either whole or partial, is prohibited. If you are not the intended recipient of the message, please notify the sender immediately.