Pricing Details
To give customers extra time to prepare for their trip, Y5Buddy charges for the rental duration. The Wi-Fi device will be available to customers the day prior to the rental date. Similarly, the device must be returned one day after the rental end date by 6:00pm. Late returns will result in late fees of the selected countries' daily charge.
The example below shows a rental based on the 9-day travel period dated 7th to 16th. The device should be returned by 17th. A late fee will be assessed starting the 18th.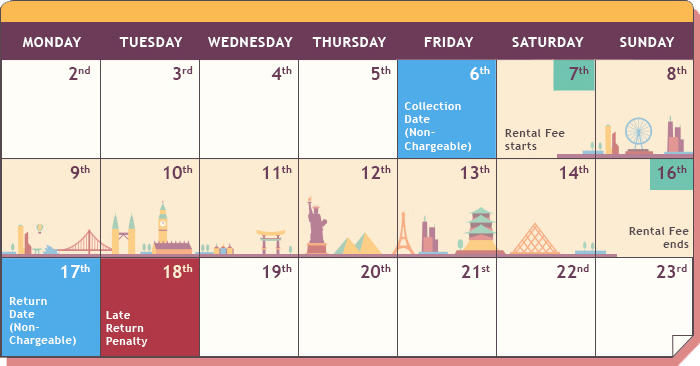 Customers will bear full responsibility of the courier cost for returning our Wi-Fi device. In case
of any delay, loss or damage when returning the device via courier, the customer will be held fully resposible.
Payment Details
1. How do I pay?
By Paypal/Credit card: Our website booking page has an option for you to pay online with your credit card or paypal account. Your deposit will be made back to you after the return within 3 working days.
By Bank Transfer: You can make a full payment to us via bank transfer to our corporate account. we will refund your deposit back to you via cheque or direct back transfer within 7 working days.
By Cash Payment: After submitting your online booking form, an acknowledgement email will be sent to you. Our friendly staff wull provide with you the necessary instructions to via email and courtesy call to come to our office for collection as well as payment.
2. What if my trip has been cancelled and I no longer require a Y5Buddy Singapore device?
Sorry to hear that your trip was cancelled. We understand these things happen. Please call us 5 days before your travel date date and we will happily refund you all your money minus $20 administration fee. If you do not contact us 5 days before your travel, this will result in only a refund 50% of the rental fee. Feel free to get in touch with us for advice as soon as you suspect your travel dates are subject to change or cancellation.
3. How much is the deposit and when will I get it back?
Deposit of SGD $50 will be charged at your checkout and will be return to you (via Bank Transfer, Cash or Credit Card payment return depending on your method of payment), when the pocket Wi-Fi device is returned to our office.